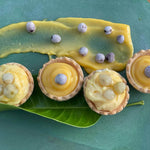 Dale Chapman is an Indigenous woman born in Dirranbandi in south west Queensland on Yuwaalaraay and Kooma tribal lands. She has lived and worked on Gubbi Gubbi land, known as the Sunshine Coast, since 1976. Dale's totem, emu, is passed on to her through her father's family and the possum through her mother's family.  
Regarded as a leader in her field, Aunty Dale is the founder of My Dilly Bag, a celebrated and award-winning chef, cookbook author, public speaker, television personality, and lecturer.
Noosa Natives were honoured to have her here to cook one of her own recipes, Bush Lemon Aspen Tartlets. Her recipe featured in Cook Noosa Cookbook for Noosa Natives https://www.cooknoosa.com.au/ 
Ingredients:
Makes approx. 2 cups.
4 large eggs
1/3 cup caster sugar
¼ cup lemon juice fresh squeezed, from one large lemon
¼ lemon aspen juice from 250 gms lemon aspens
1 tbsp lemon zest from one large lemon
6 tbsp (140 gms) unsalted cubed butter
Instructions:
Lemon Aspen curd:
1. Place eggs and sugar into a bowl and beat till combined Run through a sieve, place in a small pot
2. Add lemon and aspen juice, zest add butter whisk to combine.
3. Cook over medium-low heat whisking constantly until mixture thickens and coats the back of a spoon. Run through a clean dry sieve again.
4. Transfer to a glass bowl and lay plastic wrap directly on the surface to prevent a skin from forming. Chill for 2 hrs to set.
Lemon Aspen glace fruit for garnish:
1. Stir 2 tbsps. sugar into ¼ cup water for 2 mins in a pot on the stove until dissolved. Add whole Lemon Aspens and stir for 1 min till sugar syrup coats the aspens.
To Present
Take a pre-made tart shell/s
Option 1 pipe or spoon curd into the tart shell and decorate
Option 2  add ½ cup whipped cream to and fold gently, spoon into tart shell the cream gives it a less tart flavour
Bush Lemon Aspen Curd Tartlets can be garnished glace Lemon Aspens & Midyim berries